Creation of Indian Waqf Services - A Must

July 27, 2011 (New Delhi):
Mr Naseem Ahmad, ex-IAS officer, former AMU VC and now Administrator of Haryana Waqf Board has told TwoCircles.net that the separate Hindu cadre officers of different states are picked up by Hindu Trusts and are not controlled by the state government. That is against the facts.

These officers are recruited by state public service commissions (PSCs), are paid from the state exchequer i.e. the consolidated fund of the state. These officers are fully controlled by and are part and parcel of the state governments. Kindly see the details, references and links at the bottom of this statement.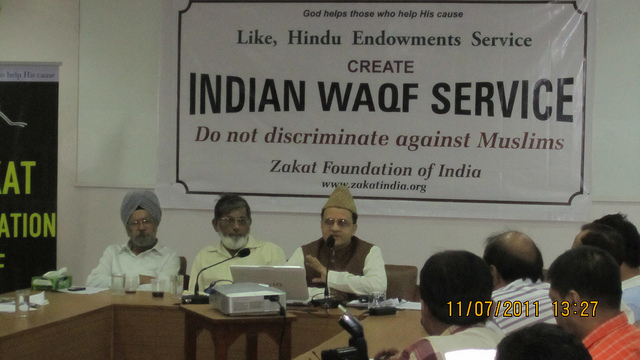 Dr. Syed Zafar Mahmood (third from the left)is at the forefront of the demand to establish Indian Waqf Service.

As far as state waqf boards' autonomy is concerned, the institution of Indian Waqf Service will not make a difference. Even now, the CEO and the Administrator are appointed by and hold office at the pleasure of the state government.
The State Waqf Boards work suffers because the CEOs are: Veterinary Doctor, Naib-Tahsildar, BDO, Junior Employment Officer, Survey Inspector, Primary Teacher (or, if rarely govt officer, he has usually additional charge of Waqf CEO.) (Information, spanning the decade 2001-2011, has been collected under RTI Act by Zakat Foundation of India in 2011. Details are available at www.zakatindia.org).
The JPC on Waqfs headed by Mr K. Rahman Khan, Deputy Chairman of Rajya Sabha (9th Report) expresses its deep concern that Muslim officers of appropriate seniority are generally not available to be posted as CEO of State Waqf Boards.
This was also strongly put forth by Sachar Committee. Both the committees stated this after collecting information from whole of India and after extensively touring the country and seeing ground level realities by themselves.
In fact, Muslims do not comprise more than 2.5% in higher bureaucracy. So, there is real problem of finding Muslim officers to be posted as CEOs (which is a statutory requirement). Creation of Indian Waqf Service will bring in systematization and professionalism in the day-to-day running of the waqf boards rather than the lopsided manner in which CEOs position is currently filled in at the whims and fancies of the political dispensation of the state at the given point of time. That is why the establishment of Indian Waqf Academy has also been recommended. For gauging the problem and trying to solve it let us
have a long term national perspective and not form our opinion based on an individual state for a particular year which could be an exception.
Waqf work and retrieval of waqf properties are complex issues. Even after we have Indian Waqf Service officers in place as CEOs, we will still have to have continuous support of the bureaucracy in general. Hence, additionally, the IAS, IPS officers etc will have to be sensitized for Waqf matters. Authentic series of lectures need to be systematically imparted on Waqf law and related issues to the probationers at Lal Bahadur Shastri National Academy of Administration, Mussoorie. Necessary additions should be made to the syllabus.
Examples of separate services for managing Hindu temples
TAMILNADU:
http://www.serviceexams.com/public_service_commission_psc/tnpsc/tamil-na...
To manage Hindu temples & endowments in Tamil Nadu
FOR MORE THAN FIFTY YEARS, SEPARATE SERVICE CADRE EXISTS
FOR HINDUS ONLY (Code 003)
Tamilnadu Public Service Commission Exam 2011
TNPSC
Applications are invited only from candidates professing Hindu Religion for direct TNPSC recruitment to the vacancies in the following post included in Group I B Service :
Assistant Commissioner in the Tamil Nadu Hindu Religious and Charitable Endowments Administration Department:
Tamil Nadu Hindu Religious and Charitable Endowments Administration
Service (Code 003)
Pay scale:
Rs.15600—39100 + Grade Pay Rs.5400
KERALA:
http://www.keralapsc.org/noti/cat-1-3-07.htm
Applications are invited from qualified candidates for appointment in
the under mentioned post in Kerala Government
1. Department : Hindu Religious and Charitable Endowment
Administration Department
2. Name of Post: DEPUTY COMMISSIONER
3. Scale of Pay: Rs.13610-20700/-
NOTE:- Only persons professing Hindu Religion can apply.
KARNATAKA:
http://dpal.kar.nic.in/ao2001%5C%2833%20of%202001%29%20Hindu%20Religious...
THE HINDU RELIGIOUS INSTITUTIONS AND CHARITABLE ENDOWMENTS ACT, 1997
Section 6
Commissioner and other officers to be Government servants
Section 7
Commissioner, etc. to be Hindu
ANDHRA PRADESH:
http://www.lawsofindia.org/statelaw/1707/TheAndhraPradeshCharitableandHi...
Charitable & Hindu Religious Institutions & Endowments Act, 1987 Section 3(2)
The Commissioner, Additional Commissioner , Regional Joint Commissioner, Deputy Commissioner and Assistant Commissioner appointed under this Act shall be a person professing Hindu religion.
Dr Syed Zafar Mahmood is the President of Zakat Foundation of India (www.zakatindia.org) and can be reached at info@zakatindia.org.