ZFI LAUNCHES DRIVE TO SUBMIT URDU TEACHERS APPLICATIONS TO MEET NATIONAL NEED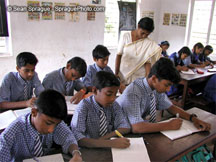 December 1, 2009 (New Delhi): In 2006, the Prime Minister of India's Office published a 15 Point Program for Welfare of Minorities.
Part of this program was a drive to appoint Urdu teachers in areas with a significant Minority population.
The orginal Order issued by the Secretary to Government of India can be viewed by clicking here >
.
DETAILS ON SCHEME TO APPOINT URDU TEACHERS (DOCUMENT IS IN URDU):
Details of salary and procedure of appointing Urdu teachers can be found by clicking here >
.
HOW TO SUBMIT APPLICATION FOR URDU TEACHER POSITION:
Instructions to submit applications for Urdu teachers positions can be found by clicking here
>
.
Return to 'Minority Schemes Database' page by clicking here >
(Updated 1/10)