CENTRALLY SPONSORED SCHEME FOR PROVIDING QUALITY EDUCATION IN MADRASSAS (SPQEM)
Urdu: Full scheme details click here >

For APPLICATION FORM click here >

English: Full scheme details

click here >
GOVERNMENT'S FINANCIAL ASSISTANCE TO MADRASSAS:
2. India's National Policy on Education (NPE) has adopted the concept of national system of education, implying that up to a certain level all students irrespective of caste, creed, languageor gender have access to education of comparable quality.
3. As a part of this mandate, on 26 February 2009, the Govt of India's HRD Ministry launched a revised scheme for Madrassas.
This is known as SPQEM -Scheme for Providing Quality Education in Madrassas.
An amount of Rs. 325 crore has been allocated for the scheme as per budget provision made by Planning Commission in the XI Five Year Plan.
4. Through this, the Govt of India volunteered to offer to the Madrassas, Maktabs and Darul Ulooms substantial financial assistance for (a) Teaching to its students, in addition to the traditional subjects (Quran, Hadees, Fiqf, etc), Science, Mathematics, Social Studies, Urdu & other Languages, Computer Application and English in their curriculum so that academic proficiency for classes I-XII is attainable for children studying in these institutions.
5. However, the participation in SPQEM of traditional Madrassas, Maktabs and Darul Ulooms is voluntary.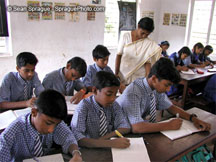 6. The scheme will provide opportunities to students of these institutions to acquire education comparable to the National Education System especially for secondary and senior secondary levels.
This will enable children studying in these institutions to progress to higher levels of learning and also open up better job opportunities for them.
Maktaba/Madrassas/Dar-ul-Ulooms can opt to become accredited study centres with the National Institutions of Open Schooling (NIOS) for primary and middle levels of education or/and for secondary and senior secondary levels as well.
Assistance would be given to Maktabs, Madarassas and Dar-ul-Uloom for activities, which contribute to these objectives.
7. The scheme also seeks to provide opportunities for vocational training for children studying in madarassas opting for assistance above 14 years of age, to enhance their opportunities for entering the job market and encourage entrepreneurship.
TEACHERS SALARIES:

8. The SQPEM is a demand driven scheme. The Scheme will endeavour to cover a total of 4,500-6,000 Madrassas and provide honorarium to about 13,500-th 18,000 teachers in Madrassas all over the country during the 11th Plan period.
9. For appointment of teachers for teaching Science, Mathematics, Social Studies, Languages, Computer Application and Science, subject to availability of a minimum of ten students in each subject, each full time Graduate teacher will be paid salary for 12 months @ Rs.6000/-p.m. and post Graduate/B.Ed. Rs. 12000/- p.m.
MADRASSA INFRASTRUCTURE:
10. For strengthening the libraries/book banks and providing teaching learning materials at primary/middle/Secondary and senior secondary levels, one time assistance up to Rs.50,000/-followed by an annual grant of Rs.5000/- will be provided to each Madrassa.
11. For purchase of Science kits, Maths kits, and other essential pedagogical equipment for teaching modern subjects a grant up to a maximum amount of Rs.15000/- will be provided.
12. Financial assistance will also be provided for establishment of Science/Computer Labs/work shops in Madrassas at the Secondary/Senior Secondary levels up to the a maximum of Rs.100000 for each of the labs followed by an annual grant of Rs.5000 for maintenance/purchase of consumables.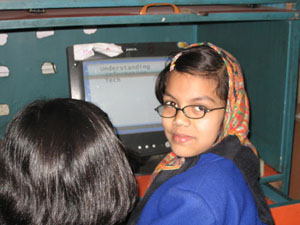 TEACHER TRAINING:
13. Financial assistance will be provided for conducting in service teacher training programmes for the teachers appointed under the scheme in madrassas to upgrade their pedagogical skills.
Training will be arranged in groups by SCERTs/DIETs/BRCs etc. and the funds for this purpose will be provided to the training institution through the State Government.
Rs. 100/- per day per teacher trainee for a maximum of 15 days training, will be paid to the training institution to cover training expenses and TA/DA of the trainee teacher.
NATIONAL EXAM FEES:
14. Financial assistance will be provided to meet registration fees, examination fees and cost of study materials supplied by the National Institute of Open Schooling (NIOS) up to 100% for each student opting for study through NIOS at secondary and senior secondary level.
15. Madrassas can also opt for vocational courses offered by NIOS after fulfilling norms & standards set by NIOS. The registration fees would be met from the scheme, as above.
There will be linkages of madrassas with industry, ITIs set up by the Ministry of Labour and Employment etc. which are in the vicinity, for use of workshops and for promoting employment opportunities.
Return to 'Minority Schemes Database' page by clicking here >
Questions? Please email info@zakatindia.org
(Updated 2/10)