O Lord ! Give me from Your Countenance a sustaining power
Sir Syed Coaching and Guidance Centre -
Civil Services Examination 2016
CIVIL SERVICES - ZFI Fellows - Selection Schedule 2015
HOW TO APPLY
Candidates who have completed their post-graduation (or graduation in case of professional degrees like medicine, engineering etc) aged 21-25 years as on 01 June of the year in which the ZFI Selection Test is held are invited to get themselves registered through On-Line Application Procedure:

For 2015-16 the schedule is as follows:

Saturday, 25 April 2015, 9.30 am:
Written Test at God's Grace School (North Campus), Abul Fazal Enclave (D Block),
Jamia Nagar, New Delhi 110025

Saturday, 25 April 2015, 7 pm:
Declaration of Result of Written Test online at zakatindia.org

Sunday, 26 April 2015, 9.30 am:
Interview of those candidates who qualify in the Written Test

Medium: English

(A) Written Objective Test: 90 minutes (100 Marks)
(i) Aptitude and (ii) Awareness about general issues – History/General Science/Social Studies
and newspapers/magazines based knowledge;
(iii) Essay - 150 words (100 Marks)

(B) Interview (of those candidates who qualify in the Written Test)
Selection of ZFI Fellows 2015 Batch, for details, click here>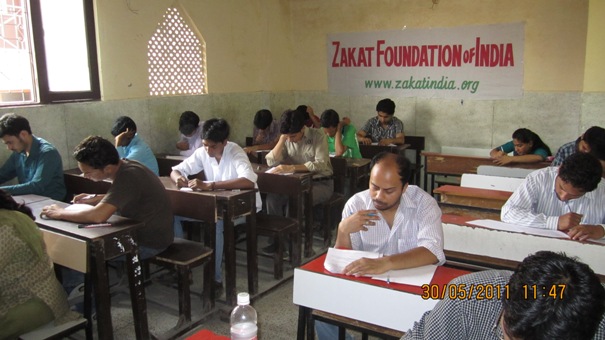 A view of the candidates appearing for selection test of ZFI fellowship 2011 held in New Delhi on 30 May 2011
WHAT IS ZFI FELLOWSHIP?
ZFI selects and sponsors the coaching of a limited number of 'ZFI Fellows,' the academically meritorious and financially deserving candidates with total devotion for appearing for the highly competitive Civil Services examination conducted by the Union Public Service Commission of India (UPSC).
Candidates are selected after an extensive application, test and interview process.
TERMS OF ZFI FELLOWSHIP
Selected candidates are encouraged to gain admission to premier coaching institutes of Delhi such as Vajiram, Synergy, Sri Ram, Ensemble, Interactions, etc. These candidates are taken under the joint guidance and care of Zakat Foundation of India and Interfaith Coalition for Peace in order to help them properly prepare for the Preliminary, Mains, and Interview for Personality Test for the UPSC Civil Services Examination 2012-13. Economically weaker candidates may be considered for part sponsorship.
Those candidates who are finally selected as ZFI Fellows will have to deposit all their original marksheets plus certificates and degrees with ZFI – from matriculation to post-graduation. These will be returnable on or after 31 May 2013. In Delhi, these selected candidates will have to live in the accommodation provided by ZFI. For boarding, to be provided by ZFI, each candidate will have to pay ZFI at the subsidized rate of Rs. 1,500/- per month. Before joining, each candidate will have to deposit a bank draft of Rs. 10,000/- as a security, returnable not earlier than 31 May 2013. This will be in addition to filing of an affidavit with ZFI, as per prescribed contents. In case a candidate, after his/her selection, refuses to comply with any of these requirements, his/her security in form of bank draft shall be forfeited in addition to any other fine/penalty leviable by ZFI none of which shall be questionable in any legal proceeding.
For details on 'ZFI Fellowship' click here >