List of ZFI Fellows 2011, Finally Selected

May 31, 2011 (New Delhi):

S. No.

Name

State

1

Md Ziaur Rahman

Manipur

2

Johny Tom Varghese (Monitor)

Kerala

3

Zahoor Ahmad Dar

J & K

4

Muneeb Umar

J & K

5

Qhudsia Wajid*

Karnataka

6

Mazid Khan

UP

7

Maarufkhan Pathan*

Gujarat

8

Md. Arif Akhter

WB

9

Shakil Ahmad

J & K

10

Shabab Sarvar

UP

11

Ghulam Rasool

Jharkhand

12

Abu Zafar Imam

Bihar

13

Ummer Rashied

J & K

14

KH Farook Ali

Manipur

15

Shahnawaz Khan

Bihar

16

Mohd Yasir Malik*

Delhi

17

Mohsin Khan Y Shaikh

Gujarat

18

Zeeshan Khan*

J & K

19

Farida Anjum

Delhi

20

Md Yusuf Hayath

AP

21

Nafis I Assad

J & K

22

Naseem Ahmad Khan*

Maharastra

23

Sameer M Mulla

Karnataka

24

Bilkissa Zahoor

J & K

25

Elsa T Oommen

Kerala

26

Al Furqan Shah Khan

UP

27

Wajid Ali

J & K

*Restricted ZFI Help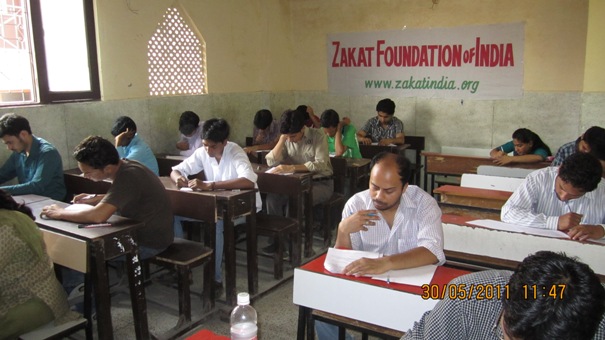 A view of the candidates appearing for selection test of ZFI fellowship 2011 held in New Delhi on 30 May 2011

TERMS OF ZFI FELLOWSHIP BEGINNING JUNE 2011

1. The selected candidates are required as follows:

Joining:
a) To report to ZFI office at CISRS House, 14 Jangpura-B, Mathura Road, New Delhi 110014 on 13 June 2011 at 10.00 am.

Depositing the Originals:
b) To deposit all their original marksheets plus certificates and degrees with ZFI - from matriculation to post-graduation. These will be returnable on or after 31 May 2013.

c) If a candidate insists that the degrees/certificates need be returned to him/her earlier, then the entire amount incurred on his/her coaching & residence by ZFI shall be refund by him/her to ZFI before the degrees /certificates can be returned to him/her. Also, for this purpose, application shall be furnished to ZFI in prescribed form.

Photos:
d) Please bring 2 passport size recent photographs and

I'd Proof:
d) A copy of the ID proof.

Hostel:
e) In Delhi, these ZFI Fellows (males) will have to live in the accommodation provided by ZFI.

f) For accommodation, to be provided by ZFI, each male ZFI Fellow will have to pay ZFI at the subsidized rate of Rs. 1,500/- per month. Full amount of Hostel charges for one year (Rs.18,000/-) will have to be deposited by bank draft payable in New Delhi in advance at the time of registration before joining the Hostel.

g) The kitchen is equipped with gas cylinder, cooking utensils and a cook. The cooking materials have to be jointly and mutually funded by the ZFI Fellows.

h) Female ZFI Fellows will hire in Delhi their joint accommodation and will be in touch with ZFI office for further instructions.

Security Deposit:
i) In addition, at the time of registration before joining, each candidate will have to deposit a bank draft of Rs. 10,000/- favouring ZAKAT FOUNDATION OF INDIA payable at New Delhi as security, returnable not earlier than 31 May 2013.

Affidavit:
j) This will be in addition to filing of an affidavit with ZFI, as per prescribed contents.

Asterisk:
k) In case of those candidates on whose name an asterisk has been put in the list of selected candidates, the amount of ZFI sponsorhip is decided by taking into consideration the financial condition of the candidate concerned.

Coaching:
l) Coaching can be provided in all three subjects viz GS+CSAT and both optionals.

ZFI's decision is final:
m) In all matters the decision of ZFI shall be final and binding.

Sanction against non-compliance:
n) In case a candidate, after his/her selection, ever refuses to comply with any of these requirements, his/her security in form of bank draft shall be forfeited in addition to any other fine/penalty leviable by ZFI none of which shall be questionable in any legal proceeding.

Welcome on board:
o) These ZFI Fellows are required to select the coaching institutes as per their subject requirements and inform the details through email info@zakatindia.org within one week. These candidates are taken under the joint guidance and care of Zakat Foundation of India and Interfaith Coalition for Peace in order to help them properly prepare for the Preliminary, Mains, and Interview for Personality Test for the UPSC Civil Services Examination 2012-13.
For Application Form to request for temporary return of original certificates, click here>

Questions? Email info@zakatindia.org