MUZAFFARNAGAR VICTIMS RELIEF

Questions? Email relief@zakatindia.org or Call 9810-334141
Online registration of Muzaffarnagar displaced persons
[Posted Jan 05 2014] click here>
ZFI documents Muzaffarnagar eyewitnesses
[Posted September 28 2013] click here>
Muzaffarnagar Eyewitness 21 & 22
[Posted September 23 2013] click here>
ZFI President expressing anguish to the Prime Minister over Muzaffarnagar crisis, along with other national Muslim leaders: 16 Sept 2013
[Posted September 21 2013] click here>
Muzaffarnagar Situation & Solutions : Long-term & short-term
[Posted September 19 2013] click here>
Video clips of Eye Witnesses of Murder & Rape in Muzaffarnagar
[Posted September 19 2013] click here>
Muzaffarnagar carnage: Muslim leaders express displeasure with PM
[Posted September 17 2013] click here>
Muslim delegation meets Prime Minister on Muzaffarnagar riots
[Posted September 17 2013] click here>
Muslim leaders meet Prime Minister - The Hindu 17.09.2013
[Posted September 17 2013] click here>
Muslim leaders disappointed with PM - Times of India 17.09.2013
[Posted September 17 2013] click here>

MUZAFFAR NAGAR DIARY مظفرنگر ڈا ٴری
ZFI team was onsite in Muzaffarnagar with a few days of the onset of violence. These are their reports.
ZFI's MUZAFFARNAGAR DIARY ذیڈ ایف آئ کی مظفرنگر ڈا ٴری

The attached photos show that the situation in Muzaffarnagar is alarmingly bad. Thousands of displaced Muslims including large number of women & children are living in temporary camps under tents, in madarsas, in personal houses without any support by the Government.

On 15 Sept ZFI Team comprising VP(2) Mr Asrar Ahmad, Secretary(1) Mr Irfan Baig and Secretary(2) Mr Mumtaz Najmi visited many villages if Muzaffarnagar. In village Malakpur about 1,000 tents are pitched, with 5-10 persons in each tent. They are sleeping on soil. Women didn't have privacy till today, hence ZFI bought and supplied 400 kilo tent material for vetically enclosing each tent. They need 500 durries / chataaees. Pregnant ladies need help.

In Isapur & Khurgaan villages 1350 persons are living in tents.. There is no drinking water available. ZFI has organized handpump & borewell for Rs 17,000/-. There was no arrangement for Namaz-e-ba-jama'at. Chataaee, lota, musalla have been provided.

In a village near Kandla, the ZFI Team met a 13 year girl and her two younger brothers 7,8 years. Their parents are missing. A local elderly philanthropist hypothecated his meager family gold and is taking care of these children plus 37 other refugees: all in his house. ZFI has offered to shelter these and similar other riot affected children in its Happy Homes in Delhi.

Lessar, Kutba, Kutbi, Fugna villages were scenes of mass killings. Gandaasaas (resembling large axe) and araas (saw) were provided in big boras (bags) to the majority community villagers a few hours before the brutal killings. Acid was thrown on the cattle owned by Muslims.

UP Government has clearly failed to protect the lives, liberty and properties of the citizens. The Supreme Court has ordered three days ago that both central & state governments must ensure peace, safety and fundamental right of the citizens in Muzaffarnagar. Surely, the central government's writ is not running through the UP Government. Supreme Court orders have not been implemented.

Article 355 of the Constitution says that it shall be the duty of the Union to protect every State against internal disturbance and to ensure that the Government of every State is carried on in accordance with the provisions of the Constitution

Article 365 says that where any state has failed to comply with, or to give effect to, any directions given in the exercise of the executive power of the Union under any of the provisions of this Constitution, it shall be lawful for the President to hold that "a situation has arisen in which the Government of the State cannot be carried on in accordance with the provisions of this Constitution".

Article 356 can be invoked with or without a report from the Governor. The President should be satisfied that a situation has arisen in which the Government of the State cannot be carried on in accordance with the provisions of this Constitution.

Hence, Muslims demand immediate imposition of President's Rule in UP. Muzaffarnagar's erstwhile SP has been suspended by the UP Govt on 15 Sept. it clearly shows that Muzaffarnagar Police also failed in its constitutional duty. Hence, Muslims demand army protection of the affected areas and transit camps. Govt should provide drinking water, shelter with sufficient toilet facilities, food, medical care, medicines, etc. One Officer should be in charge of every group of 1,000 refugees.

Muslim individuals & NGOs should be involved in the relief & rehabilitation work in every village.

---------------------------
1. Old man Rais Ahmad, sitting on the cot, has got 40 persons from various villages affected by riots. All have come to his house to take shelter. The man has pledged his wife's meager ornaments to support the guests. ZFI has provided cereals, oil etc for one week.
(Photo taken by ZFI Team on 15 Sept 2013)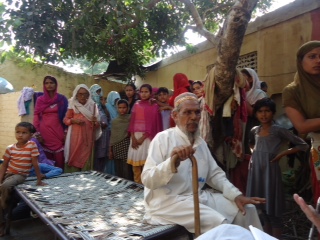 ایک عمر دراذ شخص جناب رٴیس احمد نے اپنے گھر میں 40 متاٴثرە لوگوں کو پناە دے رکھی ەے۔ انھوں نے گھر کے مٴمعلی ذیور گروی رکھ کے مەمانوں کے کھانے کا انتظام کیاہ زکواە فاٴونڈیشن آف انڈیا نے ایک ەفتە کا غلە و تیل وغیرە مەیا کر دیا ەے ہ ذیڈ ایف آئ فوٹو 15 ستمبر 2013

---------------------------
2. ZFI Secretary, Mr. Irfan Baig with three riot-affected siblings. Their parents are not traceable by Mr Rais Ahmad so he brought them home. ZFI has offered to take these children in its Happy Homes, New Delhi click here >
(Photo taken by ZFI Team on 15 Sept 2013)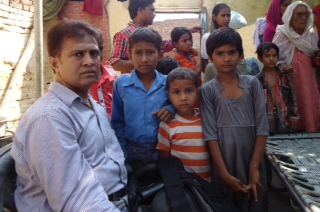 زکواە فاٴونڈیشن آف انڈیا کے سکریٹری جناب عرفان بیگ فساد سے متاٴثرە تین بەن بھاٴیو ں کے ساتھ ہ ان کے والدین لاپتە ەیں ۔ اس لٴے جناب رٴیس احمد اپنے گھر لے آٴے ۔ زکواە فاٴونڈیشن آف انڈیا نے خواەش ظاەر کر دی ەے کە ان تینوں بچوں کو دەلی میں اپنے ەیپی ەوموں میں رکھیں گے ہ


---------------------------
3. A camp housing about 2100 persons including men, women and children under feeble plastic sheds. Food is being provided by ashaab-e-khair. There is acute need of water. They wanted one borewell with a hand pump, which ZFI arranged at a cost of 17,000 Rupees, to be installed tomorrow inshaAllah. (Photo taken by ZFI Team on 15 Sept 2013)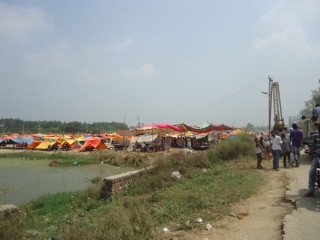 ایک کیمپ میں 2100 لوگ ەیں ہ عورتیں ، بچے اور مرد ہ پلاسٹک شیٹوں کے نیچے ہ اصحاب خیر فی الحال کھانے کا انتظام کر رەے ەیں ہ پانی کی سخت قلت ەے ہ زکواە فاٴونڈیشن آف انڈیا نے ایک بور ویل اور ەینڈ پمپ کا انتظام کردیا ەے 17,000 روپیە دے کر ہ وە انشا الله کل لگ جاۓ گا ہ. ذیڈ ایف آئ فوٹو 15 ستمبر 2013

---------------------------
4. One of ZFI VPs, Mr Asrar Ahmad in consultation with local social workers in the transit camp. (Photo taken by ZFI Team on 15 Sept 2013)

زکواە فاٴونڈیشن آف انڈیا کے ناٴب صدور میں سے ایک ، جناب اسرار احمد کیمپ میں مقامی سماجی کارکنوں سے محو گفتگو ہ ذیڈ ایف آئ فوٹو 15 ستمبر 2013