India Tax Rebate
Zakat Foundation of India welcomes donations from well wishers who want to contribute to our projects.
Note for donors WITHIN India: ZFI is registered as a charity under sections 12A and 80G of Income-tax Act. Donors are entitled to Income-tax deduction. A copy of the latest 80G certificate shall be mailed to the donor on demand.
Note for donors OUTSIDE India: ZFI is registered with the Government of India under the Foreign Contributions Regulation Act. Donors outside India CAN therefore donate to ZFI through non-Indian bank accounts.
DONATIONS IN INDIA
CHEQUES / DEMAND-DRAFTS / PAY-ORDERS: Please fill our 'Donation form' available here >

. Please mail form with your cheque/draft/pay order favouring "Zakat Foundation of India" to: A-11, Khajoori Road, Batla House, Jamia Nagar, New Delhi 110025 (INDIA).
CASH: Donors in Delhi/National Capital Region can please call one of the office bearers (see 'Contact Us') so that an authorised official of ZFI can be deputed to meet you and collect your charity against a receipt.
WIRE TRANSFER: At times ZFI accepts donations via wire transfers. Steps for wire transfer donations are as follows:
1. Please download and fill out our 'Wire transfer enquiry form' available here >

2. Please email this form to donate@zakatindia.org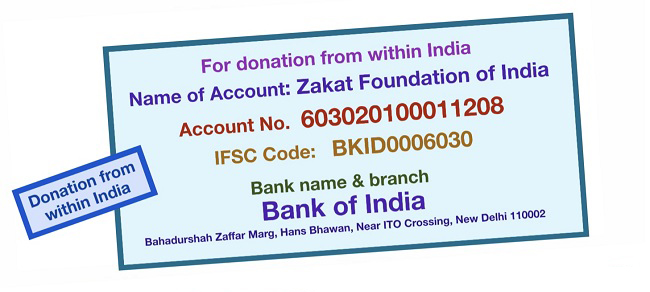 For all donations Zakat Foundation of India will send receipts to donors.
To make an ONLINE donation click here >