SEMINAR - 20 Dec 2018
'An Educated Girl will change the world'
Asia Times coverage of the event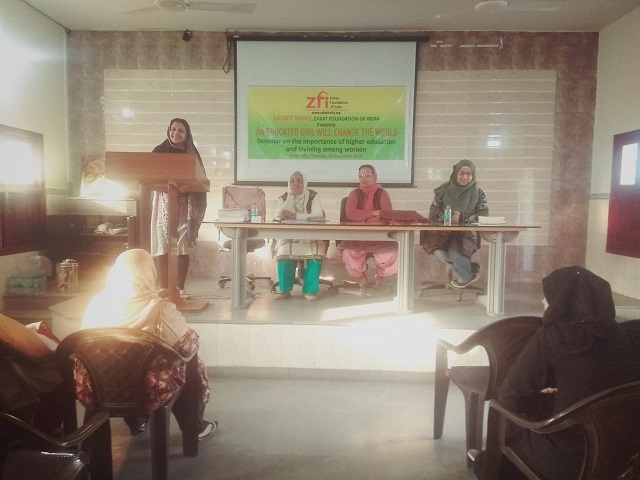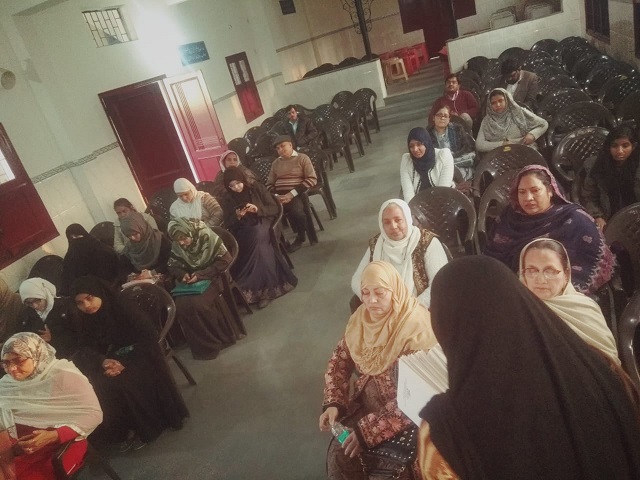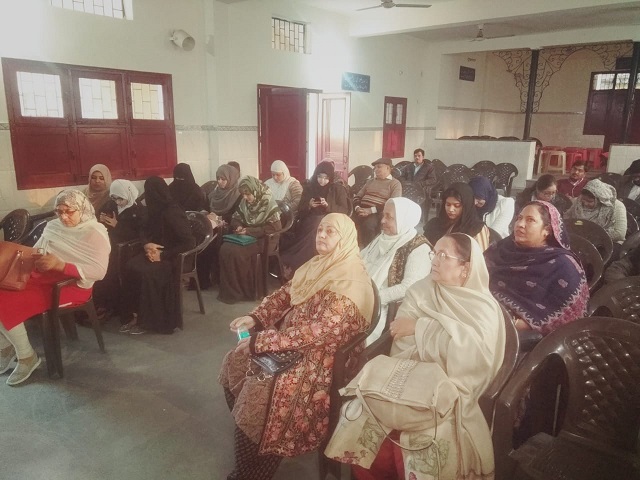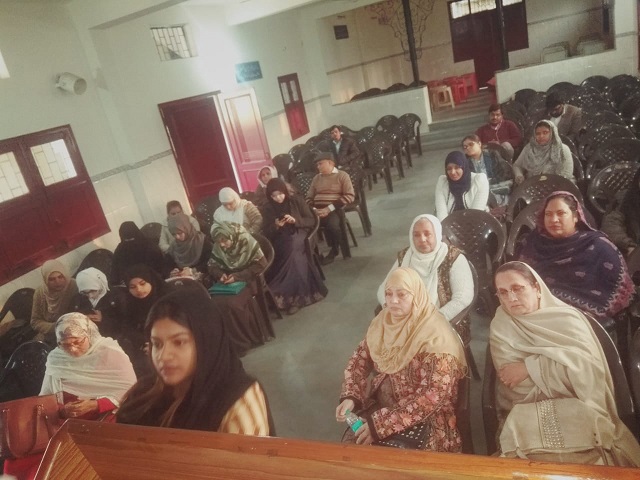 ---
SEMINAR - 20 Dec 2018
'An Educated Girl will change the world'
---
Minutes of the First Meeting of ZFI-LW
held on 21-10-2018 at ZFI Office, CISRS House, New Delhi from 11:00 AM to 02:00 PM


The following were present

1. Dr. Syed Zafar Mahmood - President ZFI in the chair
2. Mrs. Rehana Hasan - Convener of ZFI-LW
3. Mrs. Almas Zaheer - Advocate,Delhi
4. Mrs. Zainab Fida Ahsan - Associate at FINOCRACY, Delhi
5. Mrs. Afroz Aziz - Retired CDPO, Delhi
6. Dr. Shazia Parveen - Doctor, Delhi
7. Dr. Sumaiya Masoodi - Teacher, Delhi
8. Mrs. Naseema Khatoon - Secretary, Ujala Society, Delhi
9. Mrs. Nasreen Anjum - Housewife, Delhi
10. Ms Nida Anjum - Student of BA Sociology Hons. DU
11. Mrs. Nayab Mansoor - Teacher, Delhi
12. Ms Rumana Hasan - Teacher and Coordinator, Bijnor
13. Dr. Rukhsana Hasan - Content Writer, Salt Lake City, UTAH, US
14. Mrs. Shazia Aijaz Ahmad Khan - Teacher, Delhi
15. Ms. Sumbul Ansari - Student of MPT, Delhi

Agenda

To formally organize the ZFI-LW in order to reach out to larger number of women and girls to work on how we can give our best together as a team and as an individual for the betterment of the community in various fields.

ZFI President's PPT

The President of Zakat Foundation of India Dr. Syed Zafar Mahmood made a PowerPoint presentation introducing how ZFI has been working for 21 years for the betterment of the community Alhamdullillah. He invited the ladies to help consolidate and expand various ZFI projects. His PPT can be seen here.

Compered by Convener

The ZFI-LW Convener Mrs. Rehana Hasan compered the event.

Projects / help offered by the ZFI-LW Members
1. Mrs Almas Zaheer offered to establish a Mercy Home medical centre in a room of her house at Jasola Vihar in New Delhi.

2. Mrs. Afroz Aziz will begin educational and medical facilities for the children.

3. Ms. Zainab Ahsan as a finance expert gave the idea that ZFI can start a new project to provide loan for a would be couple who is in need of money to help it start early married life. Once the couple is financially sound, they would be expected to return the money to ZFI for recycling. Mrs Zainab will submit the draft proposal including possible collaboration with organisations having similar aims.

4. Ms. Nasreen Anjum will contribute financial support and can teach the children at her home.

5. Mrs Naseema Khatoon will work to motivate the students post class 12th to them prepare for civil service examinations.
6. Ms. Nida Anjum will work for women hygiene & sanitization.

7. Mrs. Nayab Mansoor will boost up the students for the UPSC examinations.

8. Mrs. Rukhsana Hasan would establish ZFI-LW branch in USA.

9. Ms. Rumana Hasan will give a two room set in her ancestral house to ZFI to start any educational centre there and she herself can teach evening classes there to the needy students.

10. Dr. Shazia can start pre medical classes in evening hours.

11. Mrs.Shazia Huda will start a day care.

12. Dr. Sumaiya Masoodi will try to expand the ladies wing and organize counseling sessions or seminars in schools.

13. Ms Sumbul Ansari being a physiotherapist can help ZFI in mercy homes on weekends.

The meeting concluded with a vote of thank to the chair.
————————————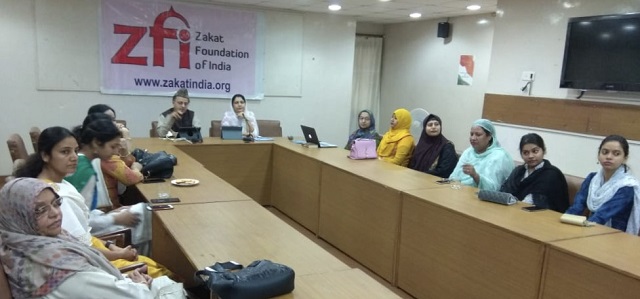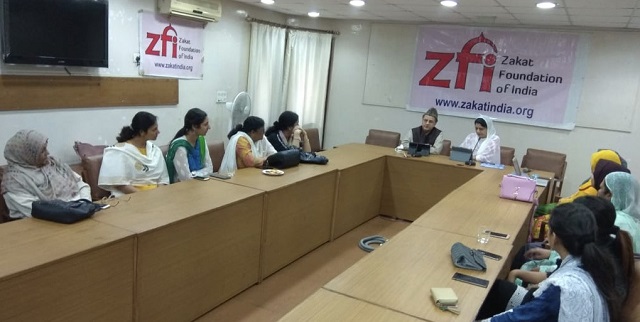 Please click to zoom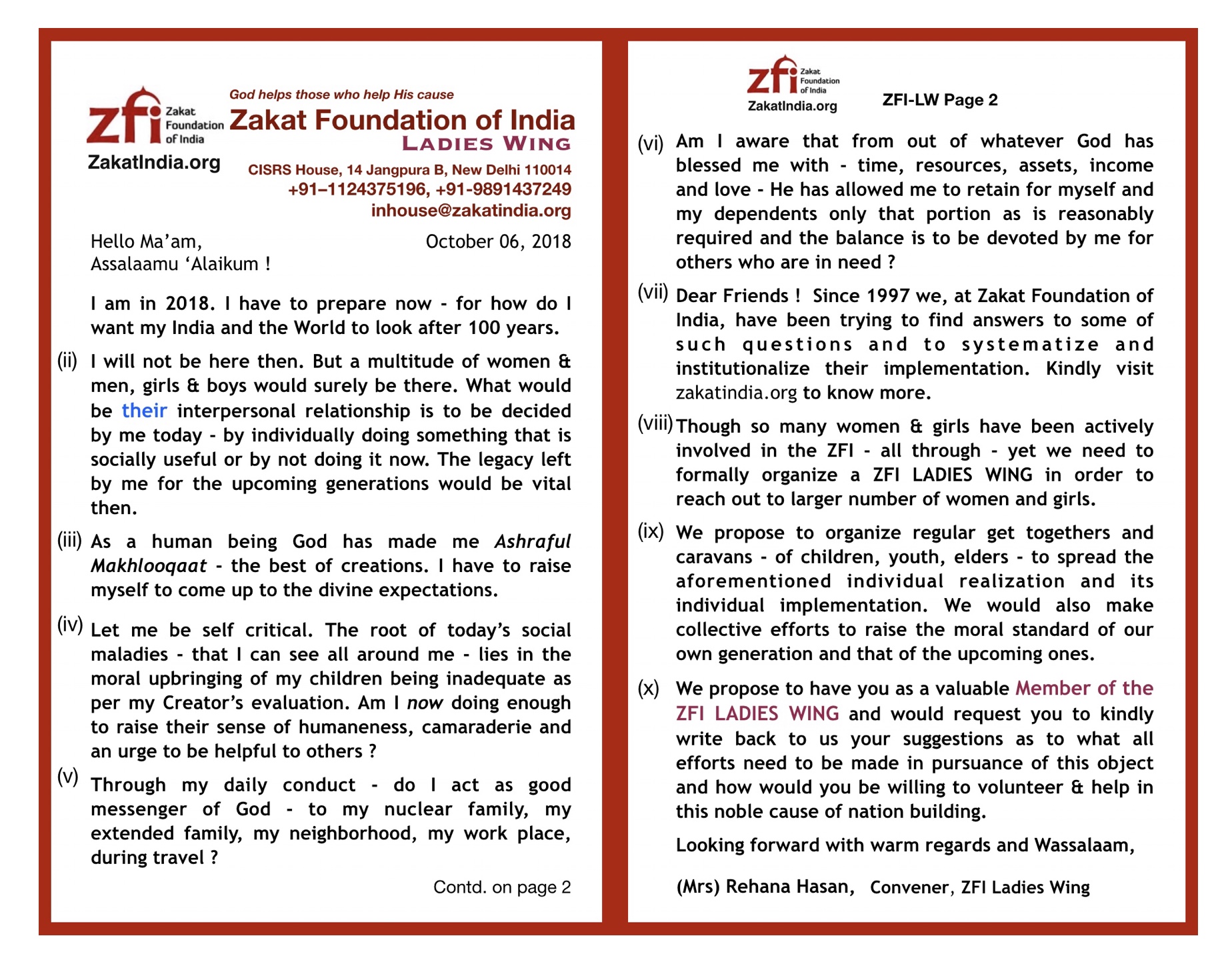 Please click to zoom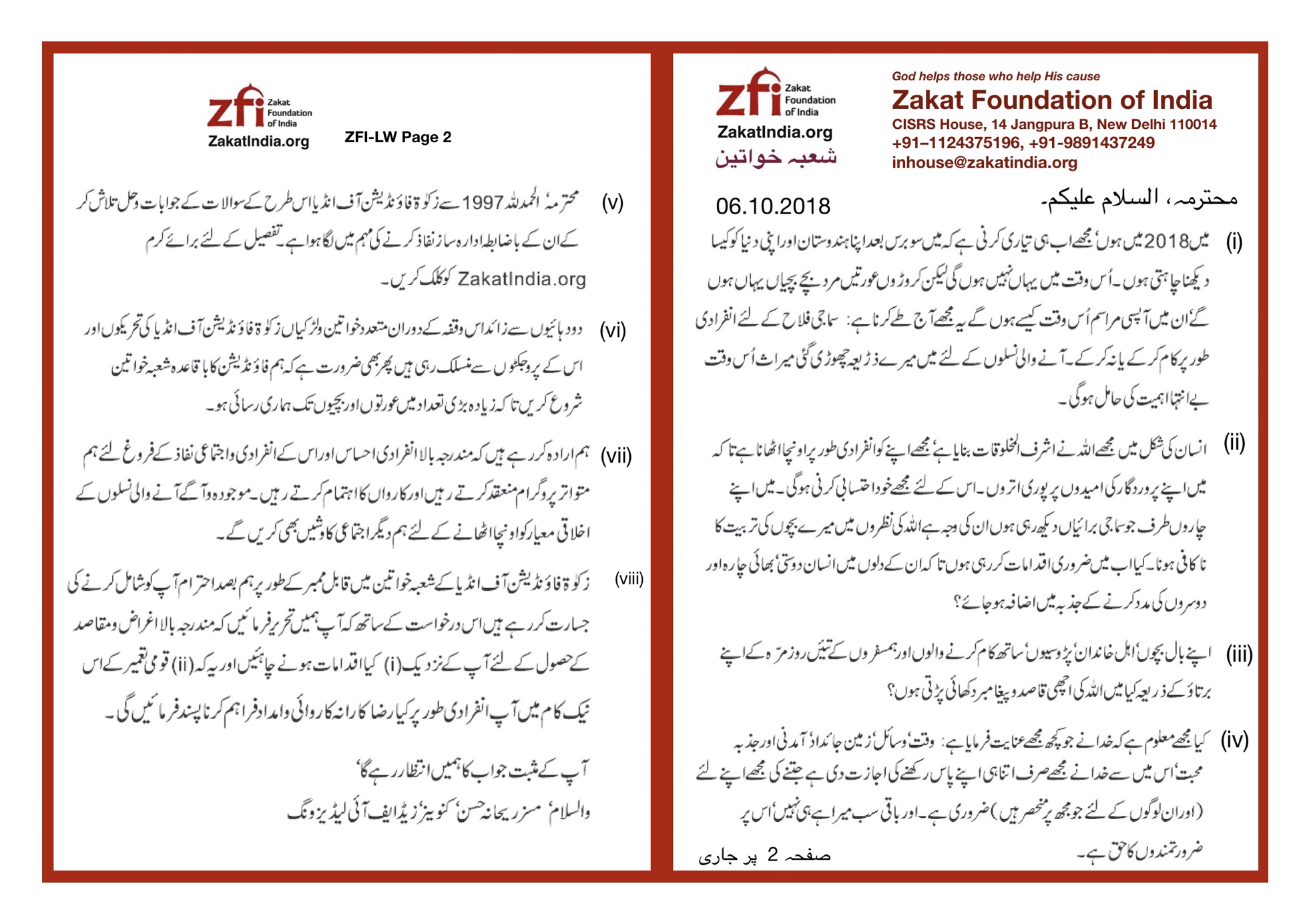 RESPONSES RECEIVED
Dear Mrs Rehana Hasan, Assalamalekum !

The least a person can do is to empathise with the other. Empathy is a rare and a beautiful quality a person can possess. I believe that every human is unique and carries a distinct kindness that needs to be awakened. There is greater good to be done everywhere in every part of the society. There is a consciousness in all persons which makes them aware of their rights and responsibilities. But it is latent and needs to be found. Talking is one such way that awakens the conscience. People let out what they are storing within and can thus be get free from all the trauma that is in them. We, as a society can help each other and spread the awareness about the basic rights as to contribute to that greater good. I want to volunteer and help Zakat Foundation of India - Ladies Wing to expand and reach out to more women and girls. Let's bring a change together.

Thankyou,
With Warm regards
Nasreen Anjum
Oct 07, 2018
---
Assalam, I would love to join ZFI's Ladies Wing. I have worked about 31 years as a child development projects officer under UP Government. I found it similar to my previous experience so I can give my services and ideas whenever required. Kindly arrange to add me as a member of ZFI Ladies Wing.
Best Regards,
Afroz Aziz
---
Aslmlkm,
I thank u for this invitation of joining the Ladies'wing of Zfi...
The cause is the need of the day, sincere n devoted efforts r a must by every thoughtful muslim, I m already involved in many places but I m ever ready for every co operation.
Naseema Khan
---
I'll definitely be looking forward to be part of this noble cause ..I'm not in India right now ..would get in touch once I'm back ..I should be back by 15th in sha Allah
I've two friends who also who I feel would be interested too ..if you do not have any issues I can ask them to join too.
Mrs. Almas Zaheer
Oct 08, 2018
---
I would love to be the member.
Yasmeen Niyazi
Oct 08, 2018