ZFI SUCCESS
Two ZFI Fellows selected to Civil Services 2009 click here >
MEDIA COVERAGE
Indian Express article [May 9, 2010] click here >
Siasat article [May 8, 2010] click here

>
Chandigarh Tribune article [May 7, 2010] click here >

Rising Kashmir article [May 6, 2010] click here >
BBC News article [May 7, 2010] click here >
STORY OF SHAH FAESAL - 'ZFI FELLOW' & ALL-INDIA I.A.S. 2010 TOPPER

May 7, 2010 (New Delhi)
LOOKING FOR TOP CANDIDATES IN KASHMIR:
Shah Faesal first came to the attention of Zakat Foundation of India on May 10, 2009 at a Civil Services Selection Exam conducted by ZFI at Kashmir University. ZFI recognized Mr. Faesal's academic potential and accepted him to the 'ZFI Fellowship' (link).
The ZFI Fellowship provides mentorship and funding to Fellows to prepare for the Civil Services examination (link). Mr. Faesal's subjects were public administration and Urdu literature.
Mr. Faesal's documents with Zakat Foundation of India as a 'ZFI Fellow':
Final list of ZFI's selected Kashmir candidates (Mr. Faesal ranked at #3). click here >

Mr. Faesal's Application to ZFI Fellowship. click here >

Mr. Faesal's Contract with ZFI Fellowship. click here >

Mr. Faesal's Joining Report with ZFI Fellowship. click here >
Additionally, for his interview preparation, in March 2010, Mr. Faesal was prepped for over 2 days by a ZFI team comprising of former Ambassadors and IPS officers. Towards the later period of the competitive cycle Mr. Faesal took up residence in Hamdard Foundation.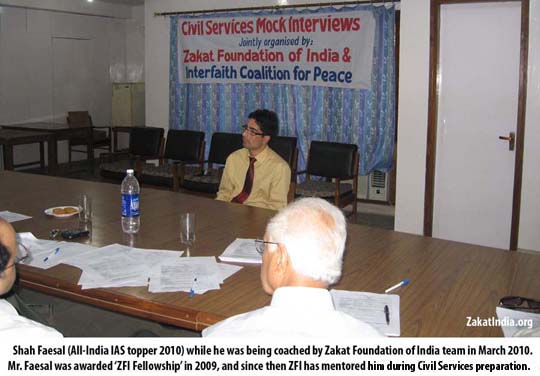 STORY OF SHAH FAESAL:
Mr. Faesal was born on May 17, 1983 to Ghulam Rasool Shah and Mubeena Bano in Kashmir. His parents are both teachers – creating the perfect environment for creating India's future topper.
EDUCATION:
Mr. Faesal was academically brilliant from the onset. He studied under J&K State Board at Government Higher Secondary School Sogum Kupwara, and finished Class X in 1998 with 77% (distinction). Class XII was done at Tyndale Biscoe School in Srinagar in 2000 with 81% in sciences (distinction).
He then enrolled at Sheri Kashmir Institute of Medical Sciences in Srinagar for MBBS and graduated in 2008 with 66% marks (first division). In fact, he was the MBBS topper that year! During MBBS Mr. Faesal was also Chief Editor of the College Journal and also academic secretary. Showing his interest in public service, while in college he was also an ardent RTI activist and columnist.

Learn more about ZFI's Sir Syed Coaching & Guidance Centre click here >