NATIONAL WAQF ACADEMY

(A unit of Zakat Foundation of India)
News about Waqf properties in various states & UTs keep circulating often without resolution. Even no news is not good news since tens of thousands of matters are pending unresolved. Rare good news also remains just news as the lessons therefrom remain to be emulated.

There is a well laid down infrastructure recently strengthened and honed, spanning the Central Waqf Council and the thirty-two State Waqf Boards (including one Shia Waqf Board each in UP and Bihar). The CWC advises the Government of India on Waqf matters and is legally empowered to advise and direct the SWBs and monitor their performance. The State Waqf Boards are equipped with public representatives namely MPs and MLAs, senior advocates, scholars/social workers, government officials as members and the chief executive officers. Mutawallis and a lady members are also mandated representatives.

Since around 2010 this sprawling machinery is assisted by National Informatics Centre for digitization of approximately 7,50,000 Waqf properties. For the working of the CWC and SWBs the revenue is envisaged / legally provided through 2% to 7% contribution from the income of waqf properties. The system and working procedures are laid down. On the other hand there is an unfathomed / least utilized wealth of revenue records, alienation records, grant records and district gazetteers.

The net result is far from being satisfactory. Encroachment of Waqf properties is rampant for decades, malfeasance, corruption and general apathy compounded by public ignorance and disinterest have cumulatively created an unenviable canvas to liberate waqf properties and protect them.

During the Corona pandemic (2020-2021) some interested persons came together interacting in spite of the constraints of social distancing - organizing webinars and working individually and collectively.

Now we need to provide for a STANDARD OPERATING PROCEDURE or SYSTEM for collection, collation and preservation of information and its systematic and result oriented utilization.

PERFORMANCE REVIEW OF WAQF ACTIVITIES
This portal of National Waqf Academy will maintain database of waqf related developments in India as well as the works done by the activists. Based on such data the efforts and contribution towards resolution of waqf issues will be deliberated upon and the progress will be monitored and recorded. Such storehouse of dynamic flow of information is expected to help in fructifying India's shared waqf aspirations.

2. Currently some activists are reporting the developments in their respective states / UTs via WhatsApp messages. These reports need to be preserved on this portal for wider sharing of the best practices.

3. The NWA portal also plans to provide information pertaining to the district and sub-division of unregistered waqf properties - name/description of the property, site, size, value etc (as required in the "report card' of properties in wamsi).





Please click below image for bigger size


Please click above image for bigger size
| | | | |
| --- | --- | --- | --- |
| | Topic | Speaker | Click |
| 1 | Waqf Law as laid down by Courts | Sri Faizi O. Hashmi, Ex Member, Delhi Waqf Tribunal | |
| 2 | Waqf Boards: Composition & Powers | Sri Abdur Rauf Shaikh, Ex CEO, Maharashtra Waqf Board | |
| 3 | Legal issues and financing the Waqf land development | Sri Ishtiaq Ali, Advocate, Mumbai | |
| 4 | Waqf Role of DM, ADM, SDM | Sri Sirajuddin Ansari, Ex ADM, Bihar | |
| 5 | Functioning of Delhi Waqf Board | Dr Tabassum Rasul, Researcher with PhD on Auqaf in India | |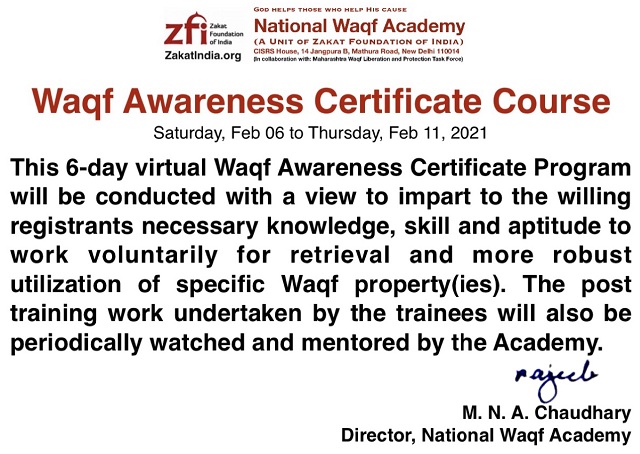 Please click below image for bigger size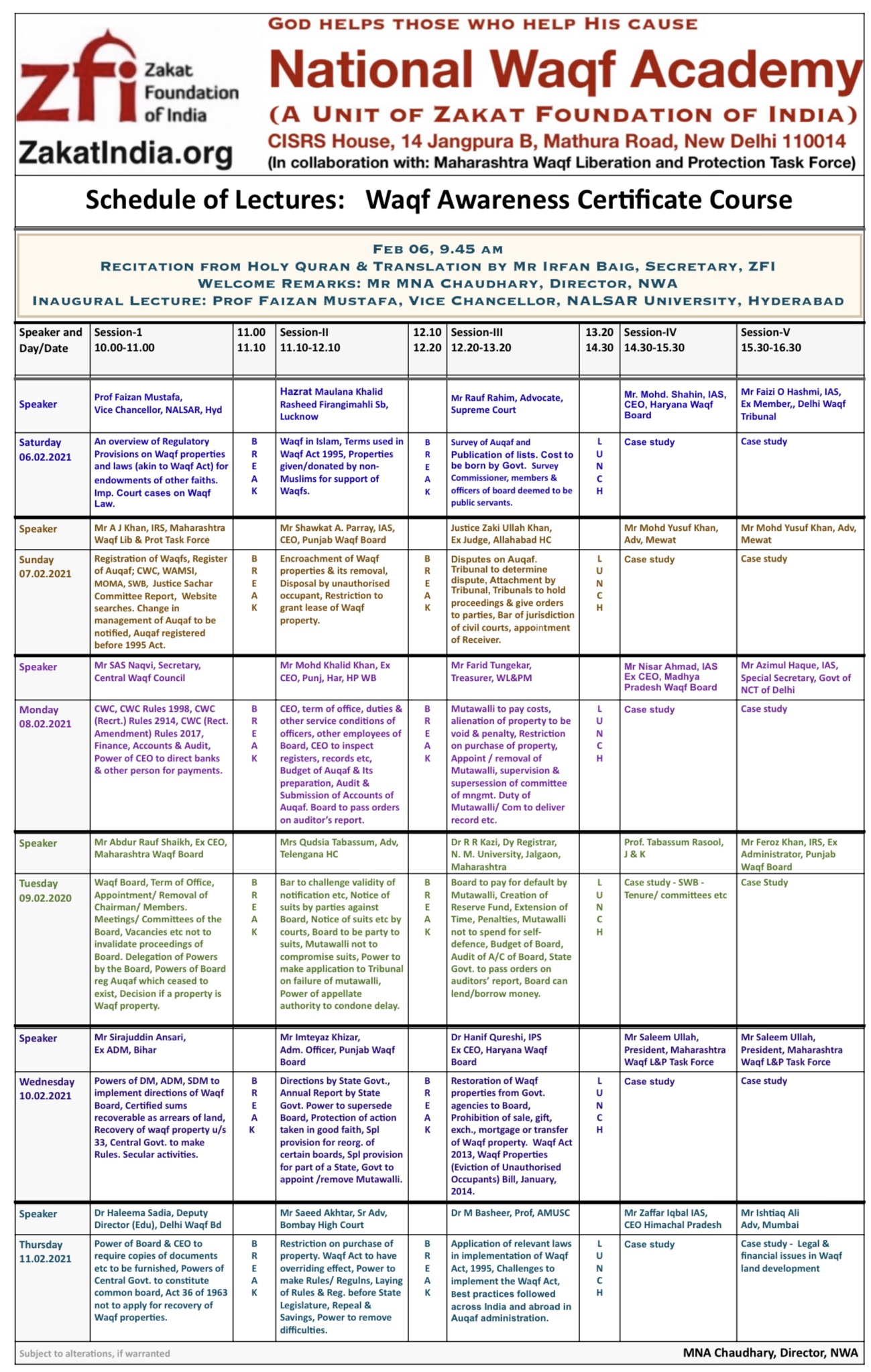 Please click above image for bigger size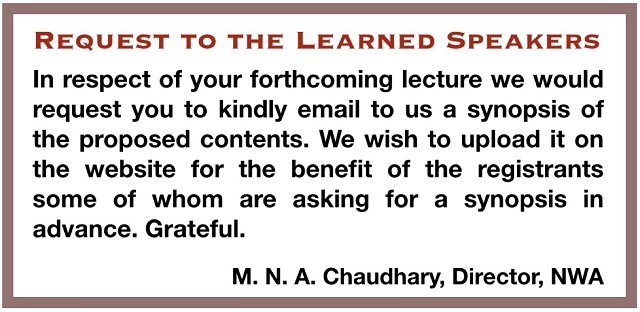 info@zakatindia.org (cc: mna.chaudhary@gmail.com)